Curated calendar with indie game events, conferences and play festivals worldwide.
Incubate Arcade 2016
September 8, 2016

-

September 11, 2016
Ever thought of your body as a game controller? The alternative controller movement is picking up steam in the independent game developer community. A game where your clothing functions as a controller to a chicken simulation that has you peck corn off of a computer screen; Incubate Arcade invites the worlds most inventive and creative game developers to show you how their non-traditional games can bring people together and foster intimacy. 
This year Incubate offers a broad range of interactive installations, games and workshops from game developers all over the world. During Incubate Arcade theater De NWE Vorst will be transformed into a playable exhibition with a selection of the best creative indie games.
The themes of this year will be Women in Games and The New Intimacy. The New Intimacy focuses on the rise of alternative ways to interact with the screen and experimental approaches to experience a game while playing together. With Women in Games we are inviting women who have contributed to the games industry to show their work and tell about their experiences with making games.
Incubate Arcade is curated by Zuraida Buter (zo-ii) and Martijn Verhallen (Reverse Landfill).
INCUBATE ARCADE:
Theatre De NWE Vorst Willem ll straat 49, Tilburg
Thursday September 8th – Sunday September 11th
Opening Hours:
Thursday 16:00 – 22:00
Friday 12:00 – 22:00
Saturday 12:00 – 22:00
Sunday 12:00 – 20:00
Price:
Adults: €5,-
Childeren up to 11: Free
Free entrance for ticket holders of the Incubate festival.
Tickets are available at the door!
SPECIAL PROGRAMME ON SEPTEMBER 10:
Workshops
12:00 – 13:45 Workshop:
Human Chain: Using Bodies to make a Circuit (in English) – Kaho Abe (USA)
14:00 – 15:45 Workshop:
What Does Sound Effect/Affect? (in English) – Pinar Temiz (NL)
Talks / Panels
16:00 – 16:30 Panel: Dutch Game Industry
16:30 – 17:00 Talks (3 x 10 min)
17:00 – 17:30 Panel: Game Artists
17:30 – 18:00 Talks (3 x 10 min)
18:30 – 19:00 Panel: Experimental Game Design – Perspectives from Abroad
SPECIAL PROGRAMME ON SEPTEMBER 11:
12:00 – 20:00 Virtual Reality Demonstration with multiple games like 'Tilt Brush', a spatial 3D painting experience.
PANEL/ SPEAKER LINE-UP:
Kaho Abe (USA)
Phoenix Perry (USA / UK)
Celia Pearce (USA)
Liselore Goedhart (NL)
Aida de Ridder (NL)
Alessandra van Otterlo (NL)
Marieke Verbiesen (NL)
Eline Muijres (NL)
Johannes Folsgaard (DK)
For more information find us on Facebook.
EXHIBITORS:
Hug Gods by Shalev Moran

Line Wobbler by Robin Baumgarten

PainStation by //////////fur//// (Volker Morawe and Tilman Reiff)
CLITar by Celia Pearce and UCLA voidLab
Homies by Sam Sheffield
Get on Top by Bennett Foddy and Douglas Wilson
Fluc by DREAMFEEL


Hotaru, The Lightning Bug Game by Kabo Abe

BeakBeak by Aran Koning

ROFL Pillar by Lucky Frame

Palimpseste by Lechantducygne
White Lilly by Charlotte Madelon
Beyond Eyes by Sherida Halatoe
XYZ by Marieke Verbiesen and Martijn Verhallen
Cunt Touch This by Copenhagen Game Collective (Sabine Harrer, Ida Marie Toft, Raimund Schumacher and Andrea Hasellager)

No Pain No Gain by Loic Perillier, Tom Victor, Tim Guthmann and Pierre

In Tune by Jessica Rose Marcotte and Zachary Miller
Smooch Station by Johannes Følsgaard, Lise Ivanouw, Anne Clausen and raghaaav
Sacramento by Dziff
Tengami by NyamNyam / Jennifer
SimAntics by Liselore Goedhart and Tom Francis
Perfect Woman by Lea Schoenfelder and Peter Lu
ZINE FAIR LADY by MorganSea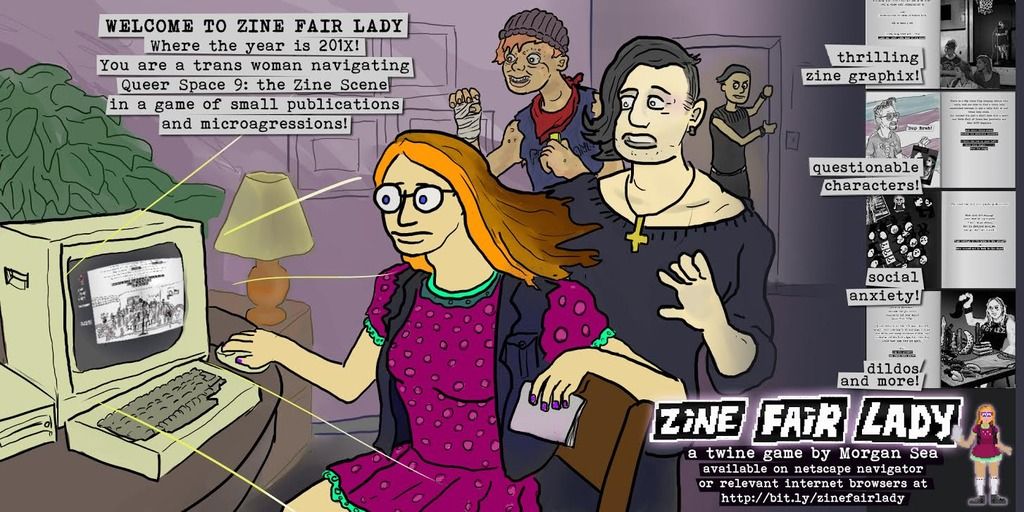 Hathor Lumina by Elaine Gusella
Magnetize Me by Morten Mygind, Lena Mechtchanova, Amani Naseem, Giacomo Neri, Patrick Jarnfelt
Closer by Marie Claire LeBlanc Flanagan
Beglitched by Hexecutable (Jenny and Alec)
Slam City Oracles by Jane Friedhoff
Tetrageddon Games by Nathalie Lawhead
Familiar by Julieta Lombardelli
Dear Leader by Anna Kipnis and team
Evita Sempai by Florencia Rumpel
Dream Interaction by Laura Palavecino and Andres Martin Britos
The hole story – Karen Xu, Ivy Wooldridge, Serena Rusboldt, Cassia Haralson, Samantha Ho, Huaning Wang, Samantha L., Avery Johnson
Interfectorem (Act1) – Avalon Brevik, Izzy Penston, Lucia Plymale, Summer
BlubBlub: Quest of the Blob – Team BlubBlub
This project was realized with the generous support of The Art of Impact.

Special thanks to:
Pixelles (Montreal)
Game on! El arte en juego

Code Liberation

Girls Make Games
Details
Start:

September 8, 2016

End:

September 11, 2016

Event Categories:
Venue
De NWE Vorst

WillemII-straat 49




Tilburg

,